Geesh I know it's April Fool's day today...I'm so lame I can never think of anything creative to do on April Fool's day besides telling people I'm pregnant when I'm not! If you did something crazy today or have done something crazy in the past tell me about..I'd love to have a good April Fool's joke for next year! :O)
Well, it's that time again....another
Truly Scrumptious Challenge!
Challenge #4 is called Flower Power. You have to use the sketch created by
Mina
 (scroll down) and you have to add flowers....easy peasy! And Guess who our sponsor for Challenge #4 is......
Whiff Of Joy
!  WOJ has the most adorable stamps! I just LOVE them. 
Here are the complete details for my card today:
Paper is Imaginisce-"Fairest Of Them All"...I just love this paper! It's so cute and adorable!
I also used some CTMH Sweet Leaf cardstock
I colored Melinda in with my copics-I also sponged around the edge with some CTMH-Blush ink while the oval was still in the nestie, that way the recessed edge stayed white.  
I also decided to try out the technique where you use your stylus to emboss with the nesties. I was having trouble getting my sizzix to make a nice emboss with the tan mats....anyways, I used my empressor and it worked awesome.
Here is a picture of the empressor if you aren't sure what it is. :O)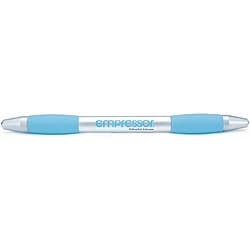 The ribbon is SU!-certainly celery and I also used my SU! Ticket punch on the corners
I punched the flowers using my Marvy and EK Success punches
The brads and gems are Close To My Heart
I also added some stickles to Belinda's wings & hearts
The sentiment stamp is from Close To My Heart-"God Bless You"...stamped in CTMH Garden Green ink
-Nicole M Bailey